Here's What You Get With Your Upgraded Membership
Six Months Full Access to 6 Online Courses including Learn Persian with Movies,
Online Activities, E-Books, Online Course Syllabi & Movie Scripts
Choose a Course and Learn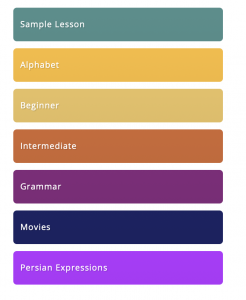 Get exclusive access to hundreds of lessons!
Tourists: 
Speak like a native
Prepare and plan for your trip to Persian Speaking Countries!
Learn Travel tips to Iran!
Learn basic phrases !
Learn basic vocabulary for situations you actually encounter!
Learn Phrases for real life scenarios!
Students:

Learn Persian Alphabet!
Speak Persian conversationally!
Learn Persian language with Persian movies!
Evaluate your Persian language skill!
Get a better grade in your Persian class!
Explore Persian language and culture!
Instructors:
Engage students with immersive content, tools and experiences!
Engage your learners with Online Activities!
Add online assessment to your course!
Administrators :
Empower your institution!
Drive student success!
Offer Asynchronous Online Persian Courses!
$75.99

6 Months Access

Upgrade