10 Ways to Say "I Love You" in Persian/Farsi
عشق.   کمیستریه  ، دست نیافتنی و زودگذر است. آنقدر قدرتمند است که توصیف آن دشوار است. ممکن است به همین دلیل بحث در مورد  این موضوع بسیار ترسناک به نظر می رسد. اما چه زمانی بهتر از روز ولنتاین برای انجام اقدامی بزرگ و ابراز محبت به نور چشمتان ؟
اگر به دنبال بهترین روش برای بیان خود هستید ، این عبارتها می تواند کمکتا ن کند که  علاقه خود را ابراز کنید.  در ایران برای ابراز عشق روز سپندارمذگان را جشن می گیرند که چند روز بعد از  روز ولنتاین است . اگر می خواهید  حال و هوای ولنتاین پیدا کنید ، یا اینکه برای نوشتن  کارت روز عشق می خواهید از چیزی  الهام بگیرید ، در اینجا ۱۰ تا از عبارتها ی عاشقانه را برایتان بیان می کنیم. حالا تنها  کاری که باید بکنید اینکه برای آن شخص خاص هدیه بگیرید. اگر نمی .دانید چطور احساساتتان را بیان کنید ، این عبارات احساسی که  مطمئناً قلب هرکسی را ذوب می کند چک کنید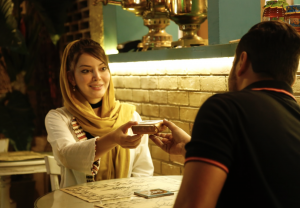 .اگر دوست دارید عبارتهای عاشقانه را با فیلم ایرانی یاد بگیرید اینجا را کلیک کنید.
If you like to learn Love Phrases with Persian movies click here.
Love. It's chemical, it's elusive, and ephemeral. It's so powerful that it can be hard to describe. Discussing the topic may seem daunting for that very reason. But what better time than Valentine's Day to make an attempt at a grand gesture and expression of affection to the apple of your eye?
If you're looking for the best way to express yourself, these phrases may help you to express your feelings. In Iran, Persians celebrate Sepandarmazgan which is the same as Valentine's Day and they are just a few days away.  Whether you're looking to get yourself in the spirit for the love holiday, or need some inspiration for your Valentine's Day card, here are 30 of the very best quotes about love to guide you with some inspiration. Now all you have left to do is get a gift for that special someone.If you're at a loss for words to express just how you feel, check out these emotional phrases which for sure melt anyone's heart.
What is your favorite love phrase in Persian and English. Leave a comment below and share with us.