Hakim A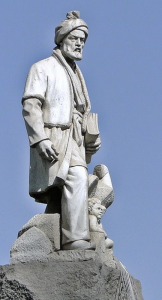 bu'l-Qasem Ferdowsi (940–1025) was born in the family of wealthy land owners (the class known as dehqan) in Tus, in northeast Iran's province of Khorasan. Ferdowsi is the author of the Shahnameh (The Persian Book of Kings), one of the greatest works of world literature and the national epic of Iran.
Ferdowsi mixed myth and history in the Shahnameh, known in English as the "Book of Kings." It's a chronicle of the rulers and warriors of the great Persian empire, which had come and gone long before the poet was born in 940 A.D.
It is also, however, a story of survival. Persia had been conquered, first by the Arabs who brought Islam, and later by barbarians from central Asia. Iranians say it was Ferdowsi, with a single great book, who preserved the Persian language, history and mythology from being erased.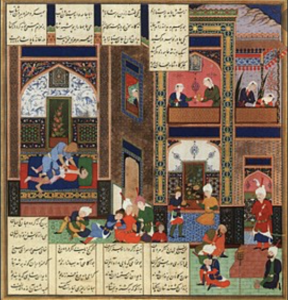 Ferdowsi is widely regarded as the preserver of the Persian language and of pre-Islamic Iranian cultural identity. Of all the peoples conquered by the Arabs in the seventh century, the Persians are the only ones who can boast a major literature in the indigenous language that they were using before the conquest. When asked recently why the vast majority of Egyptians, the heirs to a great pre-Islamic civilization, speak Arabic rather than Coptic, a leading Egyptian historian replied: 'Because we had no Ferdowsi.'
Ferdowsi was cast as a national poet well before the advent of nationalism and certainly long before the formation of an Iranian nation-state in the first part of the twentieth century.
Watch this video to learn more about Ferdowsi and share your ideas with us:
Discussion Questions
1.What is Ferdowsi's masterpiece called? How long did it take to finish composing of Shahnameh?
2. Who really saved the Persian language in Iran? How did he save the Iranian Identity and Persian language?
3. What do you think about Ferdowsi?
4. If you are from Iran or were born into an Iranian family in another country, how important is Shahnemeh to you? How important do you think it is for the average Iranian? Do you have copy of Shahnameh at home?Ask your family.
5. If you are not from Iran, do you have any prominent figure in your culture who saved your native language and identity?
Click here to watch the lesson on  Ferdowsi-The Poet who rescued Iranian Identity  (listening comprehension, reading comprehension, and glossaries), and to complete online activities . You can also download Persian and English passages and e-books.